Shopping cart
There are no products in your shopping cart.
Plant of the Week
Lobelia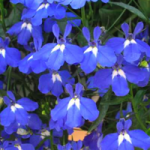 | | |
| --- | --- |
| Scientific name | Lobelia erinus |
| Common name | Lobelia |
| Type | Annuals |
| Variety | Annual |
| USDA Zone hardiness | 1 - 8b |
| Exposure | Full sun |
| Height | Under 1' |
| Spread | Under 1' |
A low growing perennial generally grown as an annual. Grown in full sun to shade, does better in the cooler weather and often goes out of bloom when it gets hot. Look for heat tolerant cultivars. Cut back after first bloom, fertilize and water to maintain flowering in the summer.
Question
tree trimming
I need to have some trees trimmed-what questions should I ask the companies. What should I expect when they are done?
Answer
First off, be sure to ask the companies you are interviewing for their ISA (International Society of Arboriculture) certification. Many tree trimming services are available that will do the work for less money without an Arborist on staff. This may sound like a good deal, but could end up costing you quite a bit more in the long run if the trees are pruned improperly. Also, don't be afraid to ask the Arborist questions about what limbs they plan to remove and why. In most cases, a prune job well done should not look obvious at first, unless there are specific structural issues being dealt with. Proper tree care is an annual process that takes time; it's a good idea to build a relationship with a tree care service you feel comfortable with in order for them to become familiar with your trees. It may seem costly, but annual pruning is much less expensive then large correctional trimming.
Log on to http://www.isa-arbor.com/ to find out more about Arborist services.
Thanks for the questions!
Recommeded Products
On Sale