Shopping cart
There are no products in your shopping cart.
Plant of the Week
Lobelia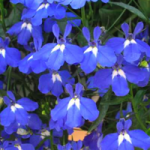 | | |
| --- | --- |
| Scientific name | Lobelia erinus |
| Common name | Lobelia |
| Type | Annuals |
| Variety | Annual |
| USDA Zone hardiness | 1 - 8b |
| Exposure | Full sun |
| Height | Under 1' |
| Spread | Under 1' |
A low growing perennial generally grown as an annual. Grown in full sun to shade, does better in the cooler weather and often goes out of bloom when it gets hot. Look for heat tolerant cultivars. Cut back after first bloom, fertilize and water to maintain flowering in the summer.
Question
My hydrangea bushes have frost damage
My hydrangea started to bud and leaf during an unusually warm spell this past March. Since then we've had some frosty nights. I noticed that the leaves are brown, withered with black tips. There is some new green growth at the bottom of the plant. What should I do now? I live in N.E. Ohio
Answer
Sounds like you have some serious frost damage on your hydrangea.
You have a couple options here:(1) If the entire shoot from ground-up has been damaged from the frost you should go a head and prune out the stems making the cut just above the new growth you are starting to see at the base. Hydrangea can handle heavy pruning, in fact it is often recommended to prune hydrangea shrubs down low or to the ground every few season to encourage flowering and remove old wood.
(2) Give the plant some time at the base of every leaf is an "Axillary Bud" if the plant is defoliated by the frost but the shoots were not damaged new leaves will emerge.

Hope this helps! Happy Gardening!
http://plantlifeonline.net/plants/shrubs/blue-wave-hydrangea
http://plantlifeonline.net/questions/hydrangea-plants
Recommeded Products
On Sale