Shopping cart
There are no products in your shopping cart.
Tomato
Plant Detail
Tomato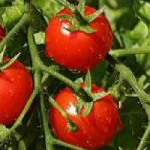 | | |
| --- | --- |
| Scientific name | Lycopersicon lycopersicum |
| Common name | Tomato |
| Type | Vegetables |
| Variety | Annual |
| USDA Zone hardiness | 11 - 11+ |
| Exposure | Full sun |
| Height | 1 to 2' |
| Spread | 2 to 3' |
Tomatoes are plant is a tender, warm-season perennial that is grown as an annual in home gardens. Seasonal freezes limit tomatoes to summer gardens however grown they can be grown year round in greenhouses. there are hundreds of varieties of on the market toady your local garden center will be able to assist you in selecting the best for your climate. Buying starter plants will get your tomatoes off to the best start in the garden. If you plan on growing from seed it is best to gat a head start indoors before the last freeze. For best results plant in the garden after the chance of frost has passed. For best results with very early plantings you may need to cover the plants to protect from cold snaps. To ensure the best yield for your tomatoes plant in different locations in the garden or if grown in pots replace the soil each season.