Shopping cart
There are no products in your shopping cart.
8 Inch Ponytail Bamboo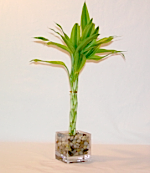 Price: $17.95
This 8 inch tall woven lucky bamboo comes with a glass cube vase and decorative accent rocks. Gold variegated foliage depicted in photo. 2nd day air is HIGHLY recommended throughout the year and especially from November through March due to the cold weather across the US.