Shopping cart
There are no products in your shopping cart.
Questions & Answers
Pruning Euonymus
lcura@ asks:
Question
I have an euonymus fort 'Harlequin'standard and would like some advice as to pruning.
Answer
It is best to prune evergreen euonymus annually after flowering start by removing all dead or damaged limbs. Because of the growth habit of the evergreen euonymus its best to only remove the shoots that spoil the symmetry. Heavy pruning may result is bare spot that could take some time to fill in.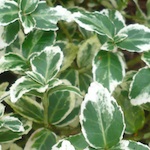 Ask a Question
Please enter your question and include your locale or zone. The answers to your questions will be posted under Q&A for you and your fellow gardeners see. Check back soon!